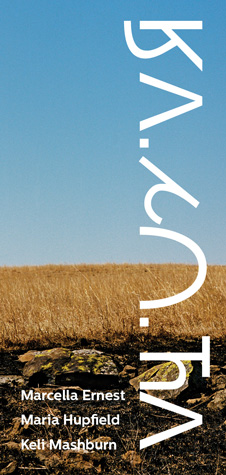 Ga ni tha

On the occasion of the 2015 Venice Biennale, Ga ni tha features Indigenous artists Marcella Ernest, Maria Hupfield and Keli Mashburn. The exhibit is curated by Nancy Marie Mithlo.

Artists Marcella Ernest and Keli Mashburn present the collaborative photography and film project Ga ni tha. The filmmakers call the piece "a performance of sound that weaves language, song, prayer and land." Brooklyn-based performance artist Maria Hupfield presents Jiimaan (Canoe). Hupfield states, "The canoe embodies balance, relates physically to place, recalls old memories and forges new ones."

Location: We Crociferi Youth Factory & Accommodation
Campo dei Gesuiti, Cannaregio 4878
ACTV: Fondamente Nove or Ca' d'Oro www.we-crociferi.it

May 6, 7, 8, 9, and 11, 2015
10:00am to 9:30pm
Jiimaan performance by Maria Hupfield: 7:30pm on the 7, 8, 9th
Film: 8:30pm - 9:30pm
Ga ni tha symposium: May 11, 6:30pm - 8:00pm
Kū Mākua symposium by Kaili Chun and Kapulani Landgraf, Native Hawaiian artists from Hawai'i, May 14, 6:30pm - 8:00pm
www.huffingtonpost.com/dawn-morais/nacf-fellows-bring-hawaii_b_7520406.html

Venezia News Article

Humans, animals and nature are born, mature and die in endless and patterned cycles. Ga ni tha describes the cycles of disorder, order and change that are inherent patterns in the universe. Only by observing and understanding these rules, can we live a balanced life.

Photographer Keli Mashburn in collaboration with filmmaker Marcella Ernest seek to transform the classic landscapes and imagery of the American prairie. Mashburn states, "The prairie fire exemplifies death and renewal. The tension isn't so much between earth and sky. The tension is in what happens between them, the cycle of destruction and rebirth."

Maria Hupfield will present the work Jiimaan a 20 min performance with a 15-foot, hand-made industrial felt canoe. Hupfield states, "For this performance, I use the canoe as a vehicle and metaphor to create new connections to memory, the body and movement. All areas of the public space are activated from the performer's body, to surface, altering the site as an extended social space of resilience and personal empowerment."


Marcella Ernest is a Native American (Ojibwe) interdisciplinary artist known for her experimental films and video performances. Marcella's award winning films and video installations have exhibited at galleries and film festivals both nationally and internationally. Her work combines electronic media with sound design with film and photography in a variety of formats; using multi-media installations incorporating large-scale projections and experimental film aesthetics to articulate the private and public self through site and sound. She is currently completing an interdisciplinary Ph.D. in American Studies at the University of New Mexico. Her research addresses how members of colonized groups use video and digital sound design as a means for cultural and political expressions of resistance. www.marcellakwe.com

Maria Hupfield Hupfield is a recipient of the Joan Mitchell Foundation Painting and Sculpture Grant (2013) and the AIM residency at the Bronx Museum (2014). Her project "Artist Tour Guide" was recently commissioned by The Smithsonian's National Museum of the American Indian, New York. Hupfield's performance "Contain That Force: 7 Solo Acts" was presented at the National Gallery of Canada for the exhibition Sakahan: International Indigenous Art (2013).
She performed "All is Moving" in response to the paintings of Artist Jaune Quick-to-See Smith at Accola Griefen Gallery, Chelsea NY and participated in "A Conversation on Performance Art: Women Redrawing/Performance", organized by The Feminist Art Project at SOHO20 Chelsea NY (2013). Her work has shown at the Museum of Arts and Design New York, Toronto Power Plant, and 7a*11d International Performance Festival (2014). Maria Hupfield is Canadian Native American, Anishinaabe (Ojbiway) band member of Wasauksing First Nation, Ontario and based in Brooklyn New York. She is represented by Galerie Hugues Charbonneau in Montreal.
mariahupfield.wordpress.com

Born in 1977, Keli Mashburn, Osage, grew up on a ranch located within the Osage Reservation of northeastern Oklahoma. She studied philosophy at the University of Tulsa and at the University of Oklahoma before studying photography at the Institute of American Indian Arts. Working in a traditional darkroom since 1998, Mashburn employs various experimental techniques to produce black and white photographic prints from 35mm film. Her pieces "explore the ethereal realm between physical place and personal myth." kelimashburn.com


The organizers of Ga ni tha are pleased to welcome Kaili Chun and Kapulani Landgraf, Native Hawaiian visiting artists to the Venice Biennale platform to present Kū Mākua. Chun and Landgraf anticipate staging a presence in Venice at the 2017 Biennale.
nativeartsandcultures.org/kaili-chun
nativeartsandcultures.org/kapulani-landgraf

The Ga ni tha exhibit is made possible by the generous support from the Native Arts and Cultures Foundation, the Osage Nation Foundation, the Canada Council for the Arts, the Autry Museum and Occidental College.