Air Land Seed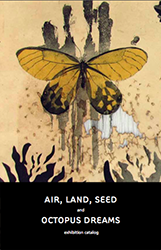 Download the 516 ARTS 2013 Air Land Seed Catalog
Press/Radio about Air Land Seed
Indigenous and Global: Two New Shows at 516 ARTS
by Eva Avenue, June 27, 2013
www.pyragraph.com/2013/06/indigenous-and-global-516-arts/
Native America Calling
Wednesday, June 19, 2013 – Artistic Expressions, Our Militarized Native Nation
(listen)
Have you ever considered how our contemporary Native existence was shaped? What about our homelands? Has militarization been part of that experience? Several Native artists have taken on these questions and have created an exhibition they call "Air, Land, Seed." This collection of Native art examines and challenges what they view as the militarization of our Indigenous homelands and Native mindsets. Concepts like forced relocation and being exiles on Indigenous soil are the center of several art pieces that will soon grace the walls of New Mexico's 516 Arts in Albuquerque, New Mexico. Does their artistic statement echo what you see in your community or just the opposite? Guests include "Air, Land, Seed" Native Curators Nancy Marie Mithlo (Chiricahua Apache) and artist John Hitchcock (Comanche).
nativeamericacalling.com
Air Land Seed addresses global tensions between home and exile, drawing from the unique perspectives of the indigenous peoples of Native North America. Nine contemporary artists engaged in the politicized medium of printmaking/paper will exhibit works that question the forced displacements and ideologies that define our collective contemporary existence. This reappropriation of colonial markers – flags, boats and airwaves – subverts the control and militarization of indigenous homelands. Through participatory live print actions, performance, exhibition and dialogue, artists will repurpose these potent icons inscribed in the US Marine credo: "From the halls of Montezuma, to the shores of Tripoli, We fight our country's battles, in the air, on land and sea."

Exhibiting artists include: Faisal Abdu'Allah, Emily Arthur, Marwin Begaye, John Hitchcock, Ryan O'Malley, Henry Payer, Duane Slick, C. Maxx Stevens, and Dyani White Hawk.

Air Land Seed is curated by a collaborative group of artists, art educators and curators, lead by Nancy Marie Mithlo and John Hitchcock, with Elisabetta Frasca, Paul Baker Prindle and Sarah Anne Stolte. Air, Land, Seed is the group's seventh Indigenous exhibition at the Venice Biennale (1999-2013) and the fifth collaborative event with the University of Venice. This year, directly after their participation in the 2013 Venice Biennale, their project will continue at 516 ARTS for an exhibition, residency and series of public events.

Air Land Seed is part of a summer/fall series of public programs presented by 516 ARTS titled Place/Displaced, addressing cultural identity through the significance of place and is in concurrent with the exhibition Octopus Dreams.