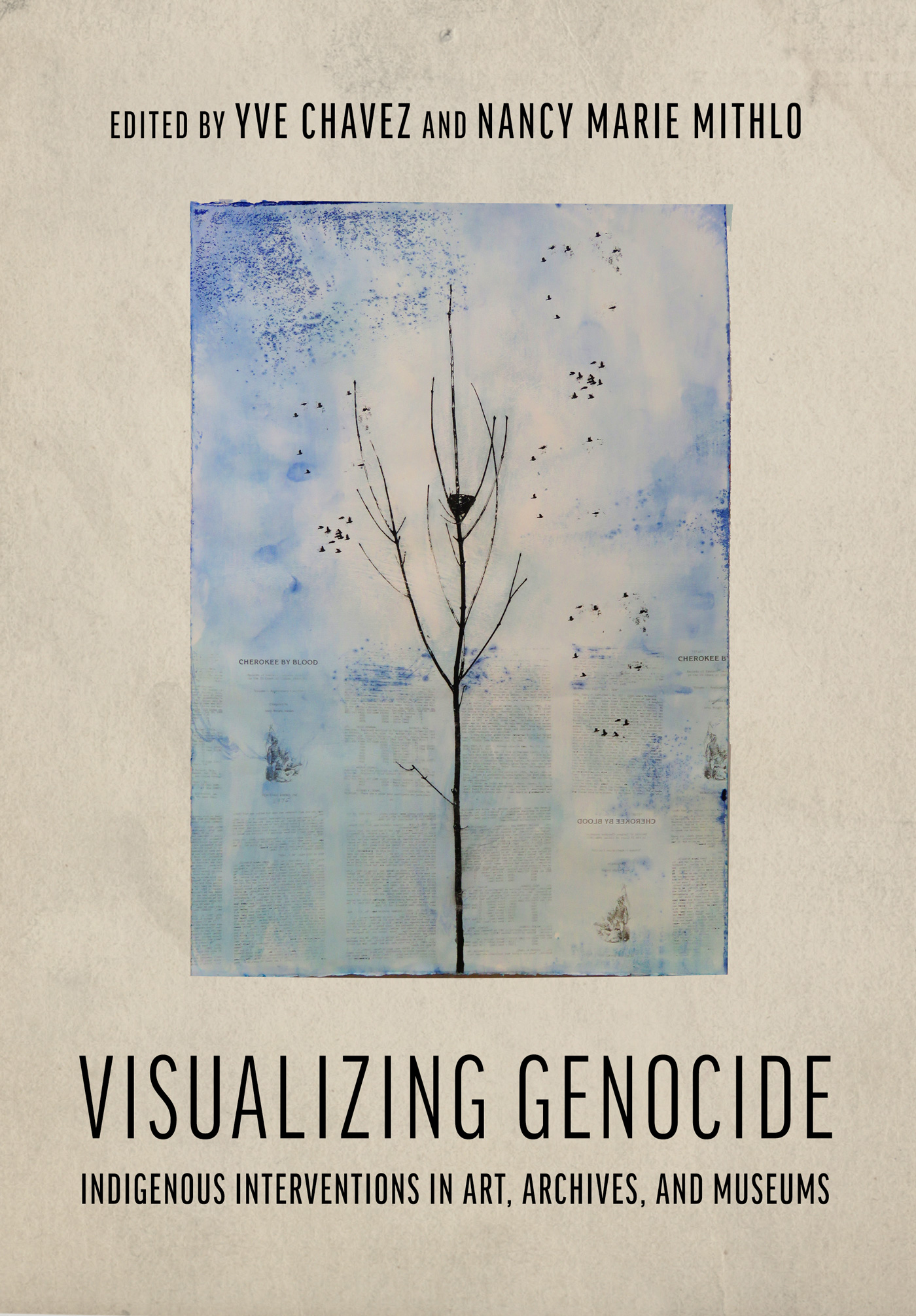 Cover Art: Only Tree (with Flight), 2019. Emily Arthur. Unique screen print on glazed BFK paper 40 x 50 inches.Collection of the Saint Louis Art Museum, MO.
Visualizing Genocide
Indigenous Interventions in Art, Archives, and Museums
Yve Chavez (Editor), Nancy Marie Mithlo (Editor), Charlene Villaseñor Black (Foreword)
Selected by Hyperallergic as one of the "The Best Art Books of 2022"
Hardcover ($100.00), Paperback ($35.00), Ebook ($35.00) Buy
Visualizing Genocide examines how creative arts and memory institutions selectively commemorate or often outright ignore stark histories of colonialism. The essays confront outdated narratives and institutional methods by investigating contemporary artistic and scholarly interventions documenting settler colonialisms including land theft, incarceration, intergenerational trauma, and genocide. Interdisciplinary approaches, including oral histories, exhibition practices, artistic critiques, archival investigations, and public arts, are among the many decolonizing methods incorporated in contemporary curatorial practices.

Rather than dwelling simply in celebratory appraisals of Indigenous survival, this unprecedented volume tracks how massacres, disease, removals, abrogated treaties, religious intolerance, theft of land, and relocation are conceived by contemporary academics and artists. Contributors address indigeneity in the United States, Norway, Canada, Australia, and the Caribbean in scholarly essays, poems, and artist narratives. Missions, cemeteries, archives, exhibitions, photography, printmaking, painting, installations, performance, music, and museums are documented by fourteen authors from a variety of disciplines and illustrated with forty-three original artworks.

The authors offer honest critique, but in so doing they give hopeful and concrete strategies for the future. This powerful collection of voices employs Indigenous epistemologies and decolonial strategies, providing essential perspectives on art and visual culture.

Available through University of Arizona Press:
uapress.arizona.edu/book/visualizing-genocide
2023 News from Native California Book Review
Visualizing Genocide: Indigenous Interventions in Art, Archives and Museums
Contributors
T. Christopher Aplin
Emily Arthur
Marwin Begaye
Charlene Villaseñor Black
Yve Chavez
Iris Colburn
Ellen Fernandez-Sacco
Stephen Gilchrist
John Hitchcock
Michelle J. Lanteri
Jérémie McGowan
Nancy Marie Mithlo
Anne May Olli
Emily Voelker
Richard Ray Whitman
Table of Contents
Foreword, Charlene Villaseñor Black
Editors' Introduction, "The Unknowable Known Past," Yve Chavez and Nancy Marie Mithlo
Section I: "Reclaiming Space Through Presence-Making"
"Remembering Our Ancestors: Photographing Mission San Gabriel's Cemetery," Yve Chavez
"The Aftermath: Visualizing Genocide," Stephen Gilchrist
"There is No Sámi Dáiddamusea: Design Fiction, Performance and the Indigenization of (Nordic) Museum Space," Jérémie McGowan and Anne Mae Olli
"Maria Hupfield's "Nine Years Towards the Sun: Reflections of Place and Spatiality in Performative Art Practice," Michelle Lanteri
Section II: "Control of Historical Resources, Reappropriation"
"Owning Hate, Owning Hurt: The Aesthetics of Violence in American Indian Contemporary Art," Nancy Marie Mithlo
"Translations / Reanimations/ Presences: Omaha Tribal Historical Research Project & the Remaking of Umo'ho' Archives," Emily Voelker
"Probing the Surface: Considering Ledger Art as a Conceptual and Material Strategy in the Recent Work of Chris Pappan (Kanza/Osage/Cheyenne River Lakota)," Iris Colburn
"Marwin Begaye: End of the Trail as Native Humor," Nancy Marie Mithlo
Section III: "Embodiment and Performance"
"Emily Arthur Final Determinations: Cherokee By Blood," Nancy Marie Mithlo in conversation with artist Emily Arthur
"Dying to Know You: Critical Insights from a Case Study of Indigenous Representations in Museums of the Early Republic," Ellen Fernandez-Sacco
"Oklahome," T. Christopher Aplin and Nancy Marie Mithlo
"Richard Ray Whitman: Street Chiefs Revisited" by Nancy Marie Mithlo
Poem "Dialogue with Sons of the Sun," by Richard Ray Whitman