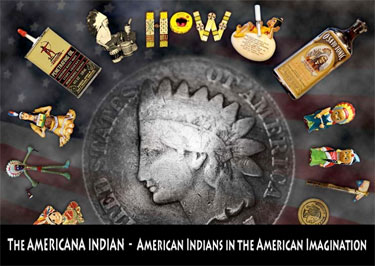 The Americana Indian
- American Indians in the American Imagination
Assistant Professor of Art History Nancy Marie Mithlo will host Sacramento State sociologist Brian Baker as a guest curator of the exhibit "The Americana Indian: American Indians in the American Imagination" opening Friday, September 25, 2009 at the Memorial Union Theater Gallery with a reception from 7:00 to 9:00 PM. A tour and teach-in on the politics of American Indian collectibles follows on Monday September 28, 2009 at Memorial Union TITU from 4:30 to 6:30.
Baker and Mithlo's collaboration is an outgrowth of the American Indian Curatorial Practice symposium sponsored by UW-Madison's Department of Art History with funding from the Ford Foundation.
"The Americana Indian" is sponsored by the UW-Madison School of Education's American Indian Curriculum Services and is a component of the year-long initiative "A Common Read: Expanding the Narrative."
The exhibit runs from September 25th, 2009-November 10th, 2009.