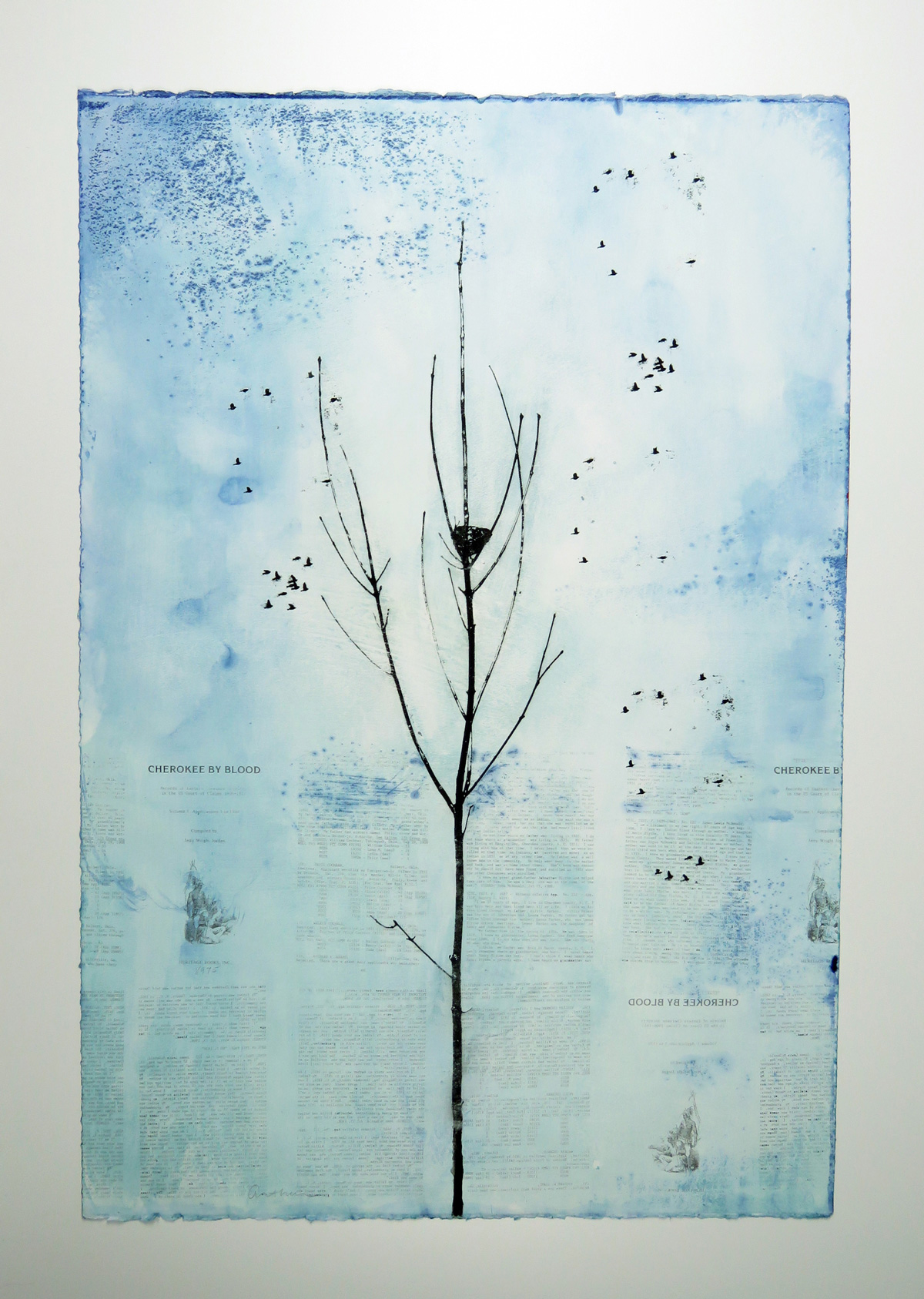 Only Tree (with Flight), 2019. Emily Arthur
Unique screen print on glazed BFK paper 40 x 50 inches.
Collection of the Saint Louis Art Museum, MO.
Visualizing Genocide
Visualizing Genocide: Indigenous Interventions in Art, Archives and Museums, 2022, University of Arizona Press. Coeditor with Dr. Yve Chavez and contributor, "Owning Hate, Owning Hurt: The Aesthetics of Violence in American Indian Contemporary Art," "Emily Arthur Final Determinations: Cherokee By Blood," "Marwin Begaye: End of the Trail as Native Humor," "Richard Ray Whitman: Street Chiefs Revisited" and co-author with T. Christopher Aplin, "John Hitchcock: Oklahome."

This text offers a fresh inquiry to theorizing art and archives from Indigenous perspectives. We wish to alter the gaze from an analysis that simply describes or celebrates to a perspective that embraces saliences of emotion, grief, memory and loss. Rather than simply "insert" alternative narratives into existing disciplines, we demonstrate by example how our stories, many from a first-person perspective, embody the complexities of the field. These weighted responses are balanced by engagements with living communities that accept the past and make efforts to move forward while remembering.
Visualizing Genocide: Indigenous Interventions in Art, Archives and Museums
Table of Contents
Foreword, Charlene Villaseñor Black
Editors' Introduction, "The Unknowable Known Past," Yve Chavez and Nancy Marie Mithlo
Section I: "Reclaiming Space Through Presence-Making"
"Remembering Our Ancestors: Photographing Mission San Gabriel's Cemetery," Yve Chavez
"The Aftermath: Visualizing Genocide," Stephen Gilchrist
"There is No Sámi Dáiddamusea: Design Fiction, Performance and the Indigenization of (Nordic) Museum Space," Jérémie McGowan and Anne Mae Olli
"Maria Hupfield's "Nine Years Towards the Sun: Reflections of Place and Spatiality in Performative Art Practice," Michelle Lanteri
Section II: "Control of Historical Resources, Reappropriation"
"Owning Hate, Owning Hurt: The Aesthetics of Violence in American Indian Contemporary Art," Nancy Marie Mithlo
"Translations / Reanimations/ Presences: Omaha Tribal Historical Research Project & the Remaking of Umo'ho' Archives," Emily Voelker
"Probing the Surface: Considering Ledger Art as a Conceptual and Material Strategy in the Recent Work of Chris Pappan (Kanza/Osage/Cheyenne River Lakota)," Iris Colburn
"Marwin Begaye: End of the Trail as Native Humor," Nancy Marie Mithlo
Section III: "Embodiment and Performance"
"Emily Arthur Final Determinations: Cherokee By Blood," Nancy Marie Mithlo in conversation with artist Emily Arthur
"Dying to Know You: Critical Insights from a Case Study of Indigenous Representations in Museums of the Early Republic," Ellen Fernandez-Sacco
"Oklahome," T. Christopher Aplin and Nancy Marie Mithlo
"Richard Ray Whitman: Street Chiefs Revisited" by Nancy Marie Mithlo
Poem "Dialogue with Sons of the Sun," by Richard Ray Whitman