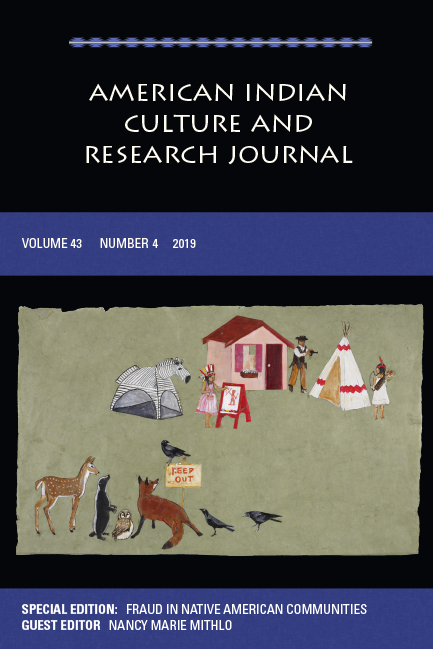 "Fraud in American Indian Communities." UCLA American Indian Culture and Research Journal special issue, volume 43, number 4, 2019
Illustration: Julie Buffalohead, Seems You have to Play Indian to be Indian, 2010, Mixed media on Paper. Courtesy of the artist. To purchase the journal:
American Indian Culture and Research Journal
Essays in Honor of Suzan Shown Harjo
The commercial, ethical, political, and social impacts of purposeful deception in academic and creative arts endeavors have resulted in multiple harms to Native communities. While discussions about "faux Indians" are numerous, writing on this topic is rare. This volume features academics and practitioners debating the phenomenon of fraud from a variety of disciplines, including dance, children's literature, fine arts, art history, anthropology, visual culture studies, poetry, museum studies, and American Indian activism. These authors, Native and non-Native, are committed to creating a space for discussion of misrepresentation in American Indian communities, with an emphasis on the adoption of Native identities in the arts.